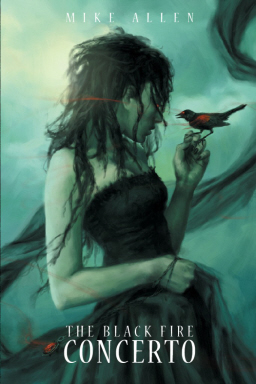 Mike Allen's first novel, THE BLACK FIRE CONCERTO (a dark fantasy), was released.
You can read and listen to the beginning online. There are two rather extensive excerpts (the one below and
Black Gate excerpts a second
).
This excerpt should indicate the feel of its traditional-fantasy style
and whether it is to your taste:
"We thank you," the Chef said, "whose life, made everlasting, shall become ours." The etchings on the knife flared as he made the cuts required of the ritual. He partook of the first morsel before offering the next pieces to the patriarch and his wife on a small saucer. Together they spoke, "We thank you," and then ate, nodding their satisfaction.