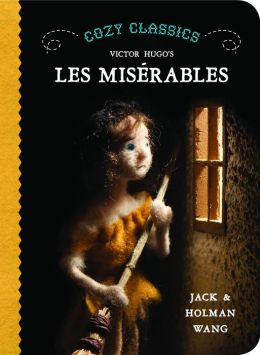 Cozy Classics:
War and Peace
and
Les Miserables
Jack Wang, Holman Wang
Smith Publicity
In these infant primers, Jack and Holman Wang handcraft the figures themselves and photograph them in startlingly expressive, emotive poses, such as the young lady looking out the window above and below the destitute man below.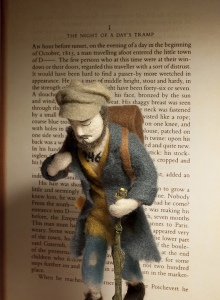 Had I known what they were, I might not have reviewed them--I assumed an older-aged audience--but they represent not only the creativity of the Wangs pictured above, but they also call upon the creativity of the readers/storytellers. Each book has twelve images paired with one word to tell their (originally) epic stories. With only twelve words like "rich," "poor," and "sad," kids are called upon to fill in the blanks of what the story is. This may be this series' most admirable strength to pull in buyers.
As this image from the
Vancouver Sun
shows, other books in this series include
Pride and Prejudice
and
Moby Dick
.