First appeared in
Weird Tales.
Reprinted (in a few genre retrospectives) by L. Sprague de Camp, Robert Silverberg, Martin H. Greenberg, Jessica Yates, Jacob Weisman, David G. Hartwell.
Summary: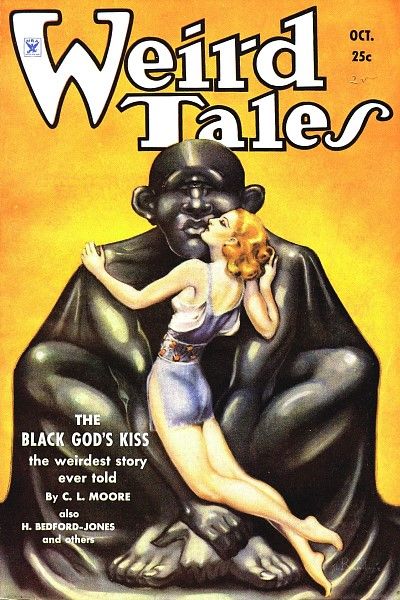 Jirel of Joiry, their commander, is brought before Guillaume the conqueror, struggling so fiercely that her captors struggle to hold her despite her ropes. They remove the commander's mask: He's a she!
Guillaume forces a kiss on her (presumably of the title). She bites his neck, and he backhands her. She awakes in a cell and shrieks. The guard investigates, and she escapes.
She finds Father Gervase. She wants a weapon to destroy Guillaume with a weapon from hell. She descends a circular tunnel.
She encounters a mirror self that tells her to enter, but she refuses. The mirror self laughs when she seeks a weapon to kill Guillaume. She fights her way out but knows that she must strike or it will strike her.
*Spoiler*
She kills Guillaume with a kiss and immediately regrets it.
Commentary:
This is a surprising one. The man painted as evil becomes the man of love. While perhaps intimated somewhat through both of their loves of violence, through the kiss, as a guy it's hard to buy. On the other hand, there's a long literary history of quarreling lovers--
Gone with the Wind
, most famously--but usually the two exchange more attempts at love? Or maybe that's the problem, that she didn't recognize love until it was too late--and the mirror-self knew this unconsciously through the laughter.
"Jirel was... equal in battle to any swashbuckling male hero.... Every male reader loved the story.... [T]he first one remained marginally the best and most original."
--Lester Del Rey,
The Best of C.L. Moore
"If you have read past Shambleau to Jirel, you will probably have noticed what a close relationship the two women bear to one another.... [B]oth were versions of the self I'd like to have been."
--C.L. Moore,
The Best of C.L. Moore
"[H]er work has a texture and emotional intensity[,....] lyrical fluency and the power to evoke a Sense of Wonder in the past-haunted interstellar venues that were her specialty."
--
Science Fiction Encyclopedia on C. L. Moore in general.
C. L. Moore on how she constructed stories