First appeared in WotF 30. Author website.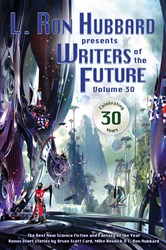 This simple, stark if paradoxically quiet story took me off guard as I'm used to sweeping dramas from this anthology series (which I do enjoy). The narrator, a hunter, has to track down the endangered Warygu as a last meal for a cruel killer on death row.
Spoiler:
As he successfully tracks the creature down, he realizes he's no better than the killer and lets the creature go, equating the ideas of hunting with cold-blooded murder.
Thematically, a strong and effective if a bit overt work (see title). It might have been even stronger if the author had listened to a reasonable hunting proponent and then argued against him. Also, a more moving work might have made the hunter related to either the killer or his victim. Nice to see variety in the anthology series.